Xero V Sage 50: Which accountancy software should you go for?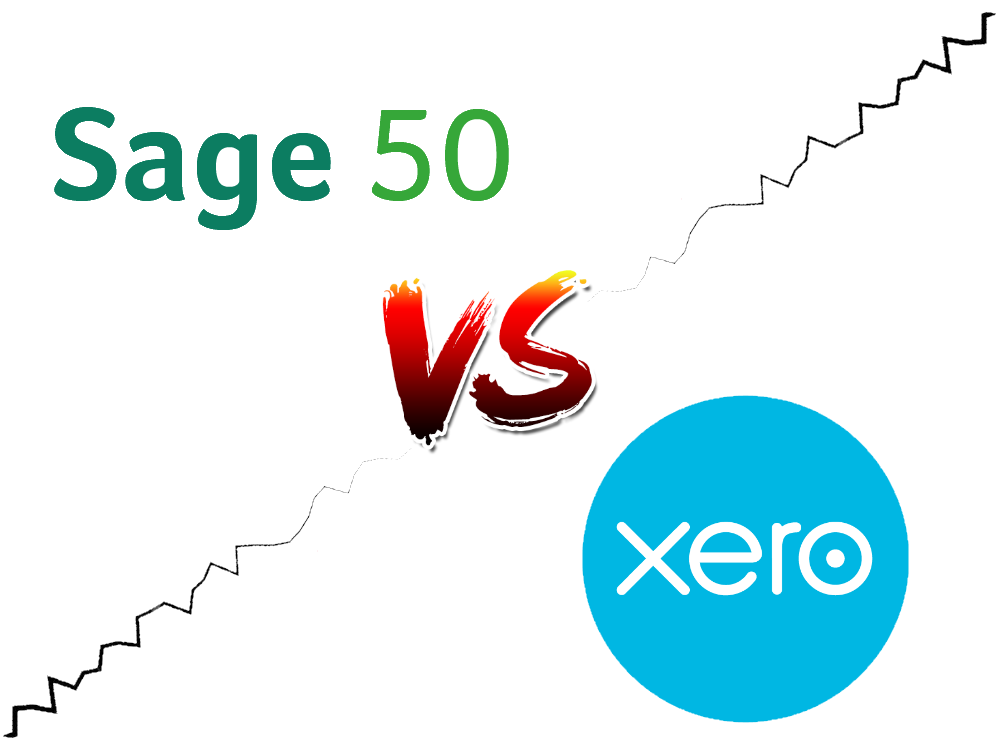 We might live and breathe accountancy, but we know record keeping isn't exactly top of most people's to do list. Thankfully, gone are the days when you had to rely on complicated accountancy software, or manually fill in a spreadsheet. These days you can opt for an easy-to-use cloud-based service that syncs to your business bank account and does most of the hard work for you. But which to go for? Sage 50 and Xero are two of the most popular packages, so we thought we'd put them head-to-head to make your decision easier.
Both Sage 50 and Xero include a wealth of features to help you keep on top of your business or charity's finances. They make record keeping and reporting straightforward; you can use them to send and receive invoices, and to file VAT reports directly to HMRC with just a few clicks. Perhaps most importantly, these accountancy packages offer 'live' information, so you can see how your business is doing in a few clicks, without having to wait for someone to update a spreadsheet or send you a report. So how do they compare?
Price
Xero wins on this one. There are three levels of Sage 50: Standard, Plus and Professional, costing between £25 and £75 per month. Alternatively, you can pre-pay, from £275 per year. Xero also has three pricing levels: Starter, Standard and Premium, costing between £10 and £27.50 per month. Xero and Sage 50 packages include different features, so it's not possible to compare like-for-like, but in our opinion the Xero Standard plan (£22 per month) includes most of what you'd get in the Sage 50 Plus plan (£50 per month).
Bank feeds
Both Xero and Sage 50 offer bank feeds, so you can pull in your transactions automatically, which saves a lot of time. Xero has a direct connection to HSBC, Natwest, RBS, Barclays and some Santander accounts, and can sync with others through a third party system called Yodlee. Sage 50 also offers bank feeds, but they're all done through Yodlee, which requires more manual input from the user, so isn't quite as streamlined in our opinion.
Support
Online support is available for no extra charge for both Sage 50 and Xero. As certified Xero advisers, we're always happy to help clients out with Xero, by phone, email or face-to-face. Sage also offers phone support, but it comes at a pretty hefty extra monthly charge.
Access from anywhere
Xero is cloud-based and the mobile apps are excellent. So you can manage your finances whether you're in the office, on a business trip, or lounging in the Caribbean. Sage 50 has now been updated to include the cloud-based Sage Drive, but to truly access your accounts from anywhere you need to go for the £50 per month Sage 50 Plus package.
Useful extras
Xero is updated every few weeks, based on customer feedback. It includes lots of useful extras, such as the ability to create quotes and turn them into invoices when the work's been done. In our opinion, a lot of the features that Xero includes as standard for £22 a month, you'll need to buy as add-ons with Sage 50, or opt for a more expensive price plan.
Payroll
You can add payroll features for an additional cost. For Xero that's £5 per month for up to five employees and £1 each after that. For Sage you'll need to buy Sage 50 Payroll, which costs from £20 per month, or the simpler Sage One Payroll, from £3.75 per month. Xero's Payroll is a little bit clunky at the moment, but it's getting better with each update and is fully integrated into the system. So, if you submit a payroll to HMRC, it'll automatically show up in your accounts. Xero also gives you the option of allowing employees to request and authorise time off through the system and to keep track of their holiday entitlement.
Users
Sage charges extra to add an additional user. With Xero, you can decide how much access your staff and partners have, for no additional cost. Many of our clients give all of their employees limited access to the system so that they can submit expense claims and prepare quotes and invoices themselves. It's particularly handy for businesses which have people out on the road, or working from different locations.
Ease of Use
For us, you just can't beat Xero for ease of use. It's been specifically designed with small businesses in mind, and the developers have done a great job of making everything straightforward and clear, and cutting out any confusing accountancy waffle! They also really do seem to listen to customers, and tweak and update regularly based on feedback. If you want to get your team up and running on Xero, we'd be happy to organise a bespoke training session. Sage 50 is clearly designed by accountants and takes a good bit longer to get to grips with in our opinion.
All in all, we think Xero is pretty perfect for small businesses and charities, and the price is hard to beat. If you're thinking of moving to Xero, we'd be happy to talk it through with you. Call us on 01404 41977 or email office@griffinaccountancy.co.uk to book your free consultation.